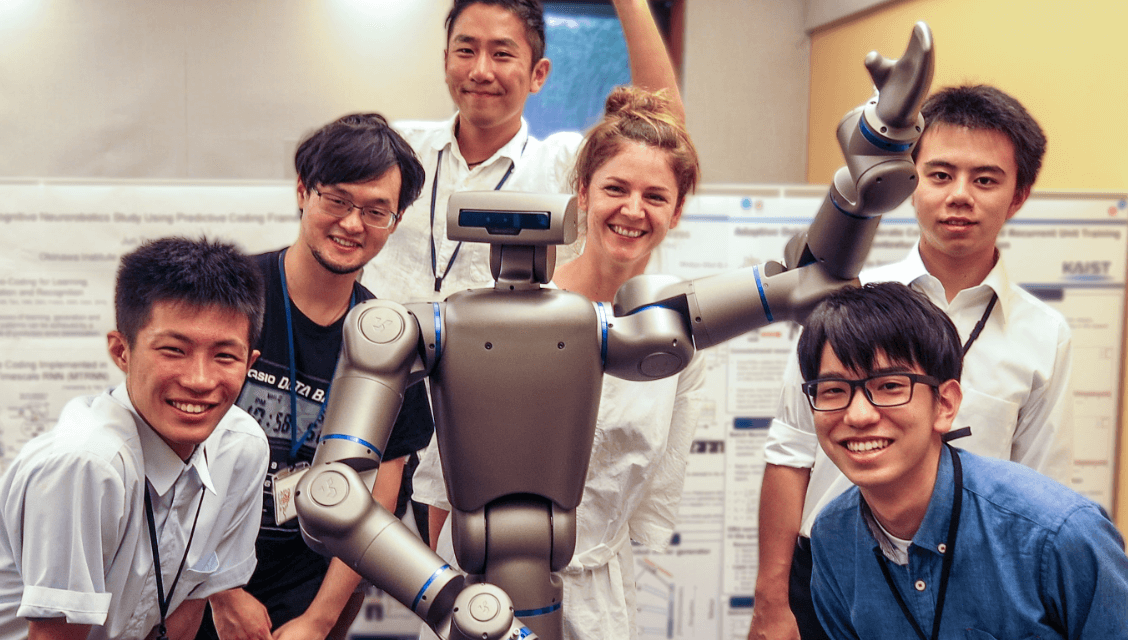 The 10th Anniversary Campaign
Advancing Knowledge, Benefitting Humanity
In its first ten years, OIST has made extraordinary progress in becoming a world-leading, cross-disciplinary institution that fosters the innovation needed to solve our most urgent problems in Okinawa, Japan, and around the world.
You can help OIST to achieve even greater impact in the next decades by contributing to the 10th Anniversary Campaign.
With a goal of raising $1 million for the Okinawa Institute of Science and Technology (OIST), the OIST 10th Anniversary Campaign seeks philanthropic gifts to advance 3 strategic priorities: environmental sustainability, building bridges, and securing the university's financial future.
Environmental Sustainability
Innovation to Address Climate Change: Donor support will help OIST continue and expand research and initiatives to address climate change, such as developing next-generation solar cells and new methods to guide conservation and adaptation planning for a range of ecological settings.
Marine Science at OIST: Donor support will enable OIST to establish a research center to improve ocean health through world-leading discoveries; teach environmental DNA (eDNA) sequencing techniques to international researchers; create a fellowship for students to engage locally in coral restoration; and fully equip the OIST Marine Science Station with a scientific research vessel, diving facilities, a state-of-the-art husbandry system, and an aquarium.
Building Bridges
Education in Okinawa: Donor support will enable OIST to continue programs (not funded by the Japanese government) to mentor Okinawan children and especially girls in science, launch an international baccalaureate K–12 school in Okinawa, and create a world-class health and wellness center in Okinawa, aiming for cooperation with the Cleveland Clinic in the U.S.
Women in Science: Donor support helps enable OIST to increase the proportion of female faculty and create a supportive culture for women on campus. The Rita R. Colwell Impact Fund for the Advancement of Women in Science is a special initiative to foster diversity and gender equality on the OIST campus, nurture women and girls interested in science in Okinawa, and create opportunities for women to advance their careers and become leaders in the field.
Art & Science: Donor support will fund new programming as part of the 10th Anniversary Campaign to enable researchers at OIST to better understand science through the arts and humanities.
Securing OIST's Financial Future
Meeting Immediate Needs: Unrestricted funds from annual donors allow the university to be flexible and respond nimbly to changing needs as they arise.
Funding in Perpetuity: Invested for growth over the long-term (through the OIST Foundation), endowed funds relieve pressure on the annual budget, protect OIST from external forces, and ensure that OIST continues to be at the forefront of innovation and excellence over the long term.
OIST is honored to have your interest in the 10th Anniversary Campaign. Donations may be designated to one or more specific priorities listed above. Donations made without specified purposes will be directed to the discretion of the president for support of the overall development of OIST, which is equally critical.
Your generous support will help OIST continue to create ground-breaking, transformational social and scientific impact that directly improve people's lives. Will you innovate the future with OIST?
* OIST 10th Anniversary Campaign Committee
Chairs
Dr. Peter Gruss
President and CEO, OIST
Dr. Cherry Murray
Chair of the Board of Governors, OIST
U.S. National Medal of Technology and Innovation
Benjamin Peirce Professor of Technology and Public Policy and Professor of Physics, Emerita, John A. Paulson School of Engineering and Applied Science, Harvard University
Professor of Physics, University of Arizona
Takeshi Ueshima
Chair of the Board of Trustees, OIST Foundation
Founder/CIO, Heritage Fund Management
Dr. Albrecht Wagner
Chair of the Board of Councilors, OIST
Chairman Emeritus, Board of Directors, DESY
Coordinating Co-Chair:
Dr. Hiroyuki Fujita
Member of the Board of Governors, OIST
Founder and CEO, Quality Electrodynamics
CTO, CT-MR Division, Canon Medical Systems Corporation (CMSC)
Campaign Executive Committee:
Dr. Rita Colwell
Member of the Board of Governors, OIST
Distinguished Professor, Johns Hopkins University Bloomberg School of Public Health
Distinguished Professor, University of Maryland, College Park
Former Director, US National Science Foundation
Kenji Govaers
Member of the Board of Councilors, OIST
Senior Partner, Bain & Company (Tokyo Office)
James Higa
Vice Chair of the Board of Governors, OIST
Executive Director, Philanthropic Ventures Foundation
Board of Directors, U.S.-Japan Council
Dr. Yuko Kakazu
Member of the Board of Trustees, OIST Foundation
OIST Foundation Education Ambassador
Astronomer and Public Outreach Specialist, Subaru Telescope and Thirty Meter Telescope Japan Project
National Astronomical Observatory of Japan, Hawai'i
Daisuke Kan
Member of the Board of Councilors, OIST
President, Cheerio Corporation
Eiko Kano
OIST Foundation Music Ambassador
Violinist
Tatsuo Kawasaki
Member of the Board of Councilors, OIST
Co-Founder, Partner & Representative Director, Unison Capital
Jesper Koll
Member of the Board of Governors, OIST
Senior Advisor, WisdomTree Investments Inc.
Founding Member and Head of Policy Committee, Asia Society Japan Center
Dr. Sachiko Kuno
Member of the Board of Councilors, OIST
President and CEO of S&R Foundation
Dr. Faisal Mahmood
Member of the Board of Councilors, OIST
Member of the Board of Trustees, OIST Foundation
Assistant Professor, Pathology, Harvard Medical School
OIST alumnus